Chains Required
Chains Required is a wholesale business serving the western United States. While we specialize in traction products such as tire chains and cables for the mud or snow, we also carry an extensive line of other seasonal products. For example, we have boots, hats, gloves, ski pants, googles, and snow toys in the winter. In the summer months, we are your source for swim suits, hats, aqua socks, beach towels, and water toys.
Chains Required is a family business owned by Roger Thorson. Most of his children and his wife have helped answer phones, write invoices, or ship orders at some point.
Our History: Carline Auto Parts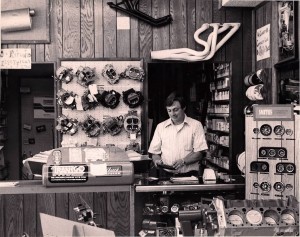 Roger Thorson started working at Carline Auto Parts in Torrance, CA in 1957, when he was just 17 years old.  Four years later he bought it. After renting out snow chains through Carline for years, Roger decided to focus on chain sales, opening up a wholesale warehouse in Paso Robles, CA in 1989. His focus then shifted from auto parts to winter products, and he closed Carline Auto Parts to focus on Chains Required. In more recent years our inventory has grown to include our summer line of products.